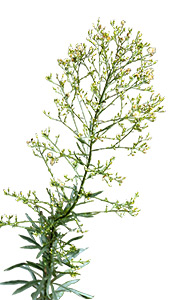 Scientific Name: Erigeron canadensis L.
Family: Asteraceae (Aster Family)
Common name: Fleabane
Description: Winter or summer annual 3 to 6 feet tall; flowers July-frost.
Range and Habitat: South Canada south through nearly all of the United States; old fields, disturbed areas and gardens.
In Porcher's time… Fleabane was used for the treatment of dropsy, diarrhea, and cholera, as well as in hysterical and nervous affections.
See the historical entry on this plant as it appears in Resources of the Southern Fields and Forests
See the contemporary entry on this plant as it appears in the Natural Medicines Comprehensive Database