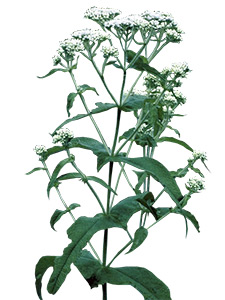 Scientific Name: Eupatorium perfoliatum L.
Family: Asteraceae (Aster Family)
Common name: Boneset
Description: Perennial herb with erect solid stems, 2-4 feet tall, often growing in clumps; flowers August-September.
Range and Habitat: Widespread in eastern North America in damp areas such as wet meadows, marches, ditches and clearings. Boneset is a native plant that has become weedy as disturbed areas increased.
In Porcher's time… boneset was used to treat colds and fevers, rheumatism and constipation
See the historical entry on this plant as it appears in Resources of the Southern Fields and Forests
See the contemporary entry on this plant as it appears in the Natural Medicines Comprehensive Database