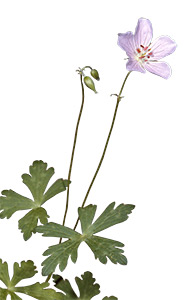 Scientific Name: Geranium maculatum L.
Family: Geraniaceae (Geranium Family)
Common name: Wild Geranium
Description: Native, herbaceous perennial from a thick rhizome; flowers April-June.
Range and Habitat: In South Carolina found in chiefly in the mountains and piedmont in cove forests, bottomland forests, and other calcium-rich forests.
In Porcher's time… wild geranium was a powerful astringent used for the treatment of hemorrhages, chronic diarrhea, cholera infantum, and as a local application for sore throats and ulcerations of the mouth.
See the historical entry on this plant as it appears in Resources of the Southern Fields and Forests
See the contemporary entry on this plant as it appears in the Natural Medicines Comprehensive Database