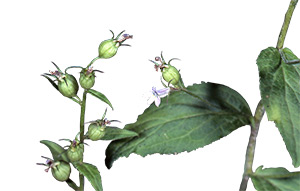 Scientific Name: Lobelia inflata L.
Family: Campanulaceae (Bellwort Family)
Common name: Indian-tobacco
Description: Branched annual herb to 3 feet tall; flowers blue to lavender or sometimes white, July-frost.
Range and Habitat: In South Carolina common in the mountains and rare in the piedmont; open, dry to moist forests and woodland margins.
In Porcher's time… Indian tobacco was considered "one of the most valuable of our indigenous plants." It was well known as an expectorant and was used for treating bronchial ailments, including croup and colic in infants, asthma, and bronchitis.
See the historical entry on this plant as it appears in Resources of the Southern Fields and Forests
See the contemporary entry on this plant as it appears in the Natural Medicines Comprehensive Database