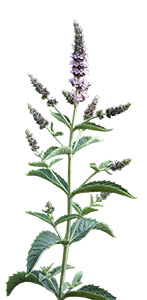 Scientific Name: Mentha spicata L.
Family: Lamiaceae (Mint Family)
Common name: Spearmint
Description: Perennial herb from leafly stolons; erect, with ascending branches 1-2 feet high; flowers-fruits July-frost.
Range and Habitat: Introduced from Europe and widely naturalized about old gardens, bogs, waste places in wet soil.
In Porcher's time… spearmint was used as an antispasmodic and also an aphrodisiac. It was also used specifically in allaying nausea and vomiting.
See the historical entry on this plant as it appears in Resources of the Southern Fields and Forests
See the contemporary entry on this plant as it appears in the Natural Medicines Comprehensive Database