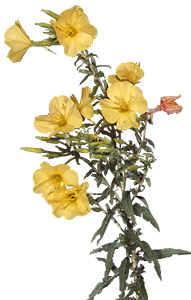 Scientific Name: Oenothera biennis L.
Family: Onagraceae (Evening-primrose Family)
Common name: Common Evening Primrose
Description: Erect biennial to five feet tall from a tap root; flowers and fruits June-October.
Range and Habitat: Ranging widely in eastern North America and Europe. Throughout South Carolina in fields, roadsides and waste places.
In Porcher's time… evening primrose was employed in the treatment of skin diseases. The plant was also eaten as salad. The ancients thought the plant possessed the powder of allaying intoxication and calming the most ferocious animals.
See the historical entry on this plant as it appears in Resources of the Southern Fields and Forests
See the contemporary entry on this plant as it appears in the Natural Medicines Comprehensive Database