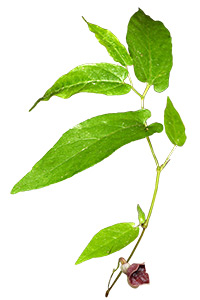 Scientific Name: Aristolochia serpentaria L.
Family: Aristolochiaceae (Birthwort Family)
Common name: Birthwort
Description: Perennial, low, erect or reclining herb; flowers May-June.
Range and Habitat: Native to the southeast; scattered throughout South Carolina in mixed deciduous forests, woodland margins, and stream banks.
In Porcher's time… Birthwort was used to promote sweating and urination during the treatment of fevers and dysentery, to induce skin eruptions, and to suppress vomiting.
See the historical entry on this plant as it appears in Resources of the Southern Fields and Forests
See the contemporary entry on this plant as it appears in the Natural Medicines Comprehensive Database