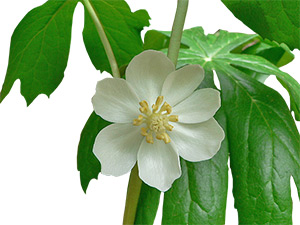 Scientific Name: Podophyllum peltatum L.
Family: Berberidaceae (Barberry Family)
Common name: May-apple
Description: Perennial herb 12-18 inches tall; solitary, nodding flower from the base of a pair of large, deeply-lobed deciduous leaves; flowers March-April.
Range and Habitat: Common throughout South Carolina in rich forests, bottomlands, meadows, pastures, and along moist road banks.
In Porcher's time… May-apple was used as a laxative in place of rhubarb or jalap, or wherever a purgative is required. The leaves are purgative, and sometimes produce nausea in irritable stomachs; the fruit is edible.
See the historical entry on this plant as it appears in Resources of the Southern Fields and Forests
See the contemporary entry on this plant as it appears in the Natural Medicines Comprehensive Database