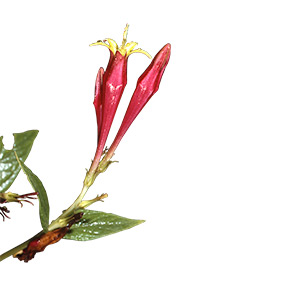 Scientific Name: Spigelia marilandrica L.
Family: Loganiaceae (Logania Family)
Common name: Indian Pink
Description: Erect, perennial herb to 28 inches tall; flower scarlet on outside, yellow-green on inside; flowers May-June.
Range and Habitat: Common and scattered throughout South Carolina; in upland forests and woodlands; in the sandhills, coastal plain and maritime strand particularly abundant on calcareous sites.
In Porcher's time… Pink-root is an indigenous plant that was well-known and efficacious for the treatment of worms.
See the historical entry on this plant as it appears in Resources of the Southern Fields and Forests
See the contemporary entry on this plant as it appears in the Natural Medicines Comprehensive Database