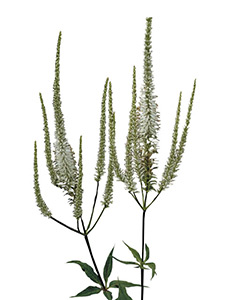 Scientific Name: Veronicastrum virginicum L.
Family: Scrophulariaceae
Common name: Culver's Root
Description: Erect, glabrous or villous perennial herb to 5 feet or more tall; flowers and fruits July-August.
Range and Habitat: Primarily a mountain plant native to the southeast in bogs, wet meadows, and stream banks.
In Porcher's time… Culver's Root was used as a cathartic, and sometimes as an emetic. It was "peculiarly adapted" to treat typhoid and bilious fevers.
See the historical entry on this plant as it appears in Resources of the Southern Fields and Forests
See the contemporary entry on this plant as it appears in the Natural Medicines Comprehensive Database