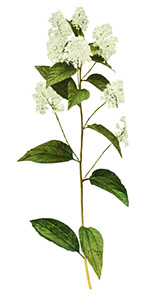 Scientific Name: Ceanothus americanus L.
Family: Rhamnaceae (Buckthorn Family)
Common name: New Jersey Tea Tree
Description: Low, deciduous shrub to 3 feet tall; flowers May-June; fruits June-July.
Range and Habitat: Common throughout South Carolina in oak-hickory forests, longleaf pine flatwoods, gladelike openings, dry pine or oak ridge forests in the mountains, and along roadsides.
In Porcher's time… New Jersey Tea Tree was used as an astringent for the treatment of skin sores, though it was also prized for it leaves which when dried were thought to make a palatable substitute for imported black tea.
See the historical entry on this plant as it appears in Resources of the Southern Fields and Forests
See the contemporary entry on this plant as it appears in the Natural Medicines Comprehensive Database