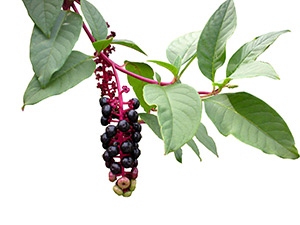 Scientific Name: Phytolacca americana L
Family: Phytolaccaceae (Pokeweed Family)
Common name: Pokeweed
Description: Robust, perennial herb, 3-10 feet tall, from a thick root; leaves alternate, entire, smooth; plant unpleasantly scented; flowers May until frost; berries in long racemes, dark purple when ripe in the fall.
Range and Habitat: Widespread in eastern North America and southeastern Canada; common throughout South Carolina; wide variety of natural and disturbed sites, including fields, pastures, vacant lots, railroad embankments, and barnyards.
In Porcher's time… Pokeweed was used in extract form to "destroy cancers by eating them out by the roots!" Mixed with brandy, it was used in the cure of rheumatism, chronic and syphilitic rheumatism, and scrofula.
See the historical entry on this plant as it appears in Resources of the Southern Fields and Forests
See the contemporary entry on this plant as it appears in the Natural Medicines Comprehensive Database