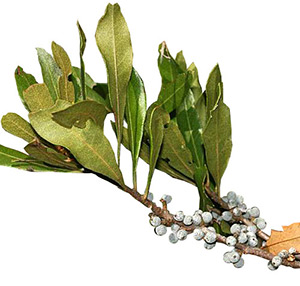 Scientific Name: Myrica cerifera
Family: Myricaceae (Bayberry Family)
Common name: Wax Myrtle
Description: Aromatic shrub or small tree to 25 tall; male and female flowers on separate plants; leaves coated with orange, resinous glands on both surfaces; flowers April; fruits August-October.
Range and Habitat: Grows in South Carolina in the sandhills, coastal plain, and maritime strand; common throughout in a wide variety of habitats.
In Porcher's time… Wax myrtle was a powerful astringent, and a decoction was used to treat diarrhea, dysentery, uterine hemorrhage, dropsy after fever, and as a gargle in sore throat. It was also used to induce vomiting.
See the historical entry on this plant as it appears in Resources of the Southern Fields and Forests
See the contemporary entry on this plant as it appears in the Natural Medicines Comprehensive Database