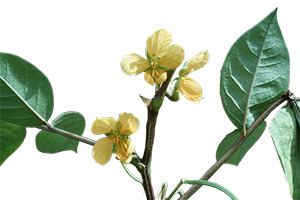 Scientific Name: Cassia occidentalis L.
Family: Fabaceae (Pea or Bean Family)
Common name: Coffee Senna, Styptic Weed
Description: Annual herb to six feet tall; native of the Old World Tropics; now pan-tropical; flowers July-August; fruits August-November.
Range and Habitat: Native of the Old World Tropics; now pantropical; found in disturbed sites.
In Porcher's time… Coffee Senna was used as a dressing for sores and skin eruptions, for digestive disorders and as a vermifuge.
See the historical entry on this plant as it appears in Resources of the Southern Fields and Forests