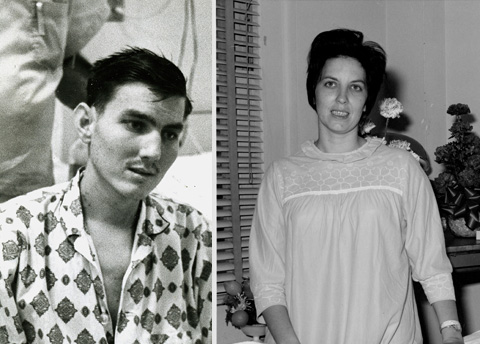 (1) William "Billy" Ashley at Medical College Hospital.
(2) Velma Jean Madden McAlister in the hospital awaiting surgery to remove her right kidney.
Patient Identified
Since the age of nine William Ashley, of Iva, South Carolina, had been suffering from chronic glomerulonephritis. He was being treated for chronic and acute kidney failure by Dr. Bob Clarke, Sr. in Due West, who referred him to Charleston nephrologist Arthur V. Williams. Dr. Williams examined Mr. Ashley and concurred with Dr. Clarke's assessment that without a kidney transplant, Mr. Ashley would not survive.
The cost of the operation was a concern for the family and the hospital. A Charleston benefactor offered to pay for the first kidney transplant, so long as the recipient was from Charleston. Discouraged, the Ashleys returned to Iva, only to be called the next day by Dr. Williams who told them that the financier had been persuaded to pay for Mr. Ashley's surgery. The Ashleys left for Charleston later that day.
In September 1968, 24-year-old William Ashley was admitted to Medical College Hospital (at Medical College of South Carolina, hereafter MCSC). In the hospital Mr. Ashley was placed on hemodialysis to treat his uremia as well as a course of antibiotics to treat infection. Eventually, both of his diseased kidneys were removed in preparation for the transplant.
Mr. Ashley was a good candidate for an organ transplant for several reasons. He was a young man in relatively good health and had a family member who was willing to donate a kidney. Later it was determined that his sister, Velma Jean Madden was the best match for a successful transplant.
MCSC's recently formed transplant team decided that Mr. Ashley's best chance of avoiding the risks of tissue rejection was through a newly discovered process known as lymphocyte depletion.