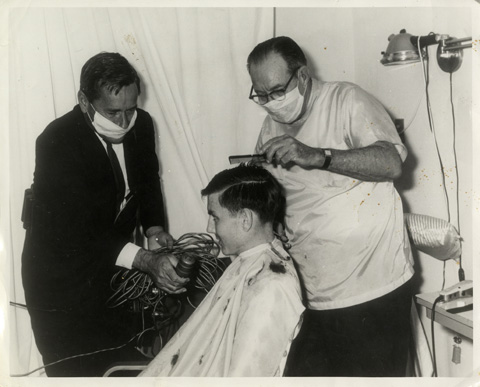 Billy Ashley being interviewed by local media while getting his hair cut for the first time since his surgery.
Media Coverage
MCSC administration did not seek media coverage of the operation. In fact, because they surgery was so revolutionary, the surgical team hoped to keep it quiet until it was clear the operation was successful. However, a potential financial donor released information on the story to an Anderson County newspaper. Once local and state media discovered the historic operation, the Ashley family and the Medical College were inundated with requests for interviews.
In response to this leak, Dr. William M. McCord, president of the Medical College at that time, issued the only statement prior to the December 3rd surgery.
"The transplant may take place. This would depend on whether or not our physicians, who are doing outstanding work, can solve immunological problems always involved in any transplant, feel the conditions of the patient and the donor indicate a good chance for success. No date has been set. A daily evaluation is being done on a probable donor and recipient.
We are not interested in trying to get into the organ transplant picture just because some other medical centers are now involved in this procedure. Here at the Medical College of South Carolina it would be a case of involving the same sorts of decisions of practicality as would be used in any other surgical procedure.
If and when a transplant such as the one in question is carried out at medical college, special funds of the Medical College Hospital and insurance would cover necessary costs."
The media coverage of the operation consumed the state. Articles appeared in newspapers across the state.