The Holy Communion Church Institute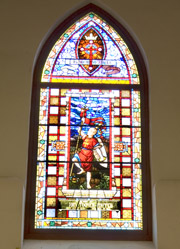 Despite occasional setbacks, The Rev. Anthony Toomer Porter proved to be an effective fundraiser for his school, both in the South and in the North, as well as in England. His greatest success was the acquisition of the arsenal for use as the school's campus. In 1879, the federal government withdrew all troops from the arsenal. Porter traveled to Washington, DC, and met with U.S. President Rutherford B. Hayes and General William Tecumseh Sherman to acquire the property. With their assistance, on December 18, 1879, Congress transferred the arsenal to the trustees of the Holy Communion Church Institute, provided that the property be used for educational purposes.
Porter took formal possession of the property on January 8th, 1880, and began planning for the conversion of the arsenal into a chapel, which he named St. Timothy's.
"We needed a chapel so I removed the roof from an old artillery shed, raised the walls four feet, and put a gothic roof upon it. I also installed some stained glass windows. The chancel window I placed in memoriam of my dear boy at whose grave the institution arose."
The Rev. Anthony Toomer Porter from his autobiography, Led On! Step by Step, 1899.
Holton Bell, a brick mason of African-American descent, designed and constructed the changes to the building and built a surrounding brick wall, which survives in part today. Despite the fact that the trusses of the high Gothic roof were secured by only two nails on each side, a fact which contributed to its vulnerability to Hurricane Hugo, its durability is a tribute to its builder. The building withstood the earthquake of 1886 and major hurricanes in 1893, 1911, 1940, and 1959 before Hugo brought it down in 1989.