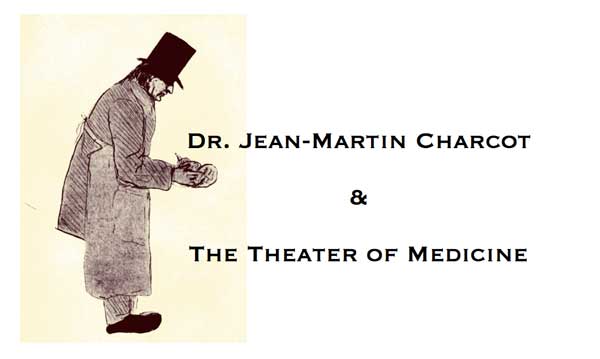 Developed for the Waring Library Society's annual meeting, this web exhibit supports this year's keynote lecture given by Dr. Irving Kushner, the director of the Division of Rheumatology at MetroHealth Medical Center and professor at Case Western Reserve University in Cleveland, Ohio.
When viewing the exhibit, run your cursor over artifact to view captions or click on an image for an enlarged view.
Jean-Martin Charcot (1825-1893) is known to many in the American medical profession as the father of modern rheumatology. His numerous contributions in the field included his work differentiating rheumatism from gout. Charcot worked out of Paris' Salpêtrière Hospital, an institution that treated many of the city's destitute citizens. Later in his career, Charcot developed an interest in studying the malady of hysteria in his female patients. His studies and the theatrical performances with the afflicted women gained a wide audience composed not just of his students and fellow physicians but also of interested citizens who enjoyed the drama of it all and viewed his lectures – delivered in a theater – as a form of entertainment.
The exhibit features artifacts that highlight these two very different aspects of Charcot's career. Exhibited materials include texts authored by Charcot, visual images, and a series of colorful caricatures depicting individuals afflicted with gout. The exhibit also features the Waring Historical Library's facsimile photographic plates depicting women of the Salpêtrière – Charcot's patients and muses – in various stages of "hystero-epilepsy." Charcot compiled the original photographs in a series of publications entitled Iconographie photographique de la Salpêtrière (Paris, 1877-1880).
About the Exhibit
This web exhibit was designed in 2006 by Sherman Paggi, Web Developer. The web exhibit is based upon a physical exhibit prepared in 2006 by Meg Moughan, University Archivist, and Kay Carter, Associate Curator, Waring Historical Library.
Illustrations and Reproductions. The Waring Historical Library holds the copyrights for some (but not all) of the illustrations and textual images. If you are interested in reproducing items, please contact the University Archivist. As with all copyrighted material, "fair use" guidelines of the applicable copyright laws may apply to educational or other non-commercial uses.
Citation and Attribution. Please cite this electronic exhibition as a whole as: "Dr. Jean-Martin Charcot and the Theater of Medicine," an online exhibition of the Waring Historical Library, Medical University of South Carolina Library. Charleston, SC: Waring Historical Library, 2006. URL: http://waring.library.musc.edu/
Resources
Waring Historical Library Collections:
Caricature Collection, Waring Historical Library
MUSC Waring Journals Collection
Photographic plates (unprocessed collection), Waring Historical Library Collections
Published Works (for additional information on Jean-Martin Charcot)
Jean-Martin Charcot, Charcot, the Clinician: the Tuesday Lessons— Excerpts From Nine Case Presentations on General Neurology Delivered at the Salpêtrière Hospital in 1887-88, translated with commentary by Christopher G. Goetz. New York: Raven Press, 1987.
Jean-Martin Charcot, Clinical Lectures on the Diseases of Old Age, translated by Leigh H. Hunt. New York: William Wood & Co., 1881.
Jean-Martin Charcot, Clinical Lectures on Senile and Chronic Diseases, translated by William S. Tuke. London: The New Sydenham Society, 1881.
Jean-Martin Charcot, Lectures on the Diseases of the Nervous System, Delivered at La Salpêtrière, translated by George Sigerson. Philadelphia: Henry C. Lea, 1879.
Jean-Martin Charcot, Lectures on Localization in Diseases of the Brain, Delivered at the Faculté de Médecine, Paris, 1875, edited by Bourneville, translated by Edward P. Fowler. New York: William Wood & Co., 1878.
Georges Didi-Huberman, Invention of Hysteria : Charcot and the Photographic Iconography of the Salpêtrière, translated by Alisa Hartz. Cambridge, Mass.: MIT Press, 2003.
Jan Ehrenwalk, ed., The History of Psychotherapy. Northvale, N.J.: J. Aronson, 1991.
Georges Guillain, J.-M. Charcot, 1825-1893: His Life – His Work, edited and translated by Pearce Bailey. New York: Hoeber, 1959.
A. R. G. Owen, Hysteria, Hypnosis and Healing: the Work of J.-M. Charcot. New York, Garrett Publications, 1971.
Websites (for additional information on Jean-Martin Charcot)
Find a biographical sketch of Charcot and information on his research findings at
http://www.whonamedit.com/doctor.cfm/19.html
Indiana University's Human Intelligence Website contains information on Charcot's influences, career highlights, and additional resource information at:
http://www.indiana.edu/~intell/charcot.shtml
Questions or comments: hoffius@musc.edu