Legacy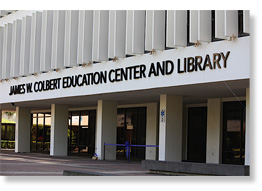 "He felt that the library was the heart of the University and he wanted it to be one of the finest in the country.  The MUSC library remains one of his outstanding legacies." 
Fred E. Pittman, M.D., Ph.D.
Dr. Colbert's influence is still felt today.  Those who worked with him during his brief tenure at MUSC still speak highly of their experiences of him.  The following remembrances express the great affection his colleagues had for him. 
Billy Baggett, Ph.D.:
"I knew Dr. Colbert well, admired him immensely, and benefited from his help and advice during my first few years as a department chair at MUSC."
William H. Golod, Ph.D.:
"All I can tell you was that he had a very soft, very personal demeanor. He listened very well, and then if he didn't have an answer right there, it was, "I'll get back to you."
Edward L. Hogan, M.D.:
"The all-too-short time shared at MUSC was memorable for his gifted leadership and unflagging commitment to building a fine academic institution, a goal kept on course by his decisiveness, limitless energy, high integrity and a ready good humor." 
Daniel R. Knapp, Ph.D.
"The successes of MUSC in the years following his untimely death were in no small part due to the course he set for the institution."   
John E. Mahaffey, M.D.:
"Early on, he was instrumental in promoting the concept of specialized patient care units, now utilized extensively and know as intensive care units." 
R. Layton McCurdy, M.D.:
"He was a transformative person because he had this vision and a way to transform the school, and he could persuade others that we could do it.  He was marvelous in that way. He was a wonderful man and he did it with humor, with gentleness, and persistence. That's just who he was."  
H. Biemann Othersen, Jr., M.D.:
"What impressed me was that he was an approachable individual. He was sort of low key. He didn't rant and rave, didn't raise his voice a lot. He looked at you over his glasses. He wore reading glasses, and he would look over and sort of, "hmm hmm" [nodding his head] while you were talking to him, but you got the feeling that he really was listening to you and that he really cared about what you were saying." 
Fred E. Pittman, M.D., Ph.D.:
"I remember, in my meetings with Dr. Colbert, that he had a photograph in his office of President Jack Kennedy shaking his hand. I've often thought of this photograph and of how similar were the two men:  both were enthusiastic optimists and visionaries; both were inspirational leaders." 
Dr. Philip J. Privitera, Ph.D.
"He was a man with a great dream to build MUSC into a nationally recognized medical school with top-notch research faculty.  He made great strides toward fulfilling that dream in the short time he was with us." 
Charlene G. Stuart:
"He inspired all with whom he worked to think bigger than South Carolina. He touched my career and the careers of my mentors with his belief in national excellence and MUSC's role in that future excellence. We had never dared to dream about what he convinced us we could achieve." 
Betsy Waters:
"His passing was a sad day for all of us at MUSC, but his influence during his all-too-brief time with us undoubtedly had a profound impact on the future direction of the instituion. I think he would be proud of how far we've come." 
Marion E. Woodbury:
"Dr. Colbert was instrumental in recruiting nationally recognized faculty to MUSC. He believed the faculty was the University and it would rise or fall on the strengths of its faculty."   
W. Curtis Worthington, Jr., M.D.:
"Well, Jim is keeping an eye on this place. I can only believe he would take great satisfaction in the advances that have taken place recently. The major advances, the dramatic innovations, continuations, and positive programs that have occurred seamlessly and recently toward a much better and a much more outstanding medical university."