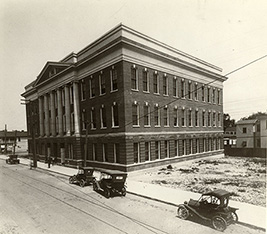 As part of the deal to transfer the Medical College to state management, the South Carolina legislature appropriated $10,000 to the school with the provision that the local population raise the money for a new building to replace the original  Queen Street building. The new building was constructed in 1914 on a site donated by the City of Charleston. With construction of the new Medical College Building, the campus shifted from Queen Street to an area formerly known as the Lucas property.
Under Dean Wilson's leadership the school continued to grow despite continued funding and space problems. In the first half of the 20th century, additional buildings were erected to form what became known as the Quadrangle, which included the Medical College Building, laboratory-clinic building, physiology-pharmacology building (1920), library-pathology building (1930), research building (1962), and Baruch Auditorium (1940) which was paid for by financier Bernard M. Baruch and named for his father, Dr. Simon Baruch, who served as president of the South Carolina Medical Association and chairman of the South Carolina Board of Health.
The arrival of Kenneth M. Lynch, MD, in 1913 coincided with the school's initial efforts to transition from a college to a university. Lynch was educated in Texas and joined the Medical College in 1913 as the first full-time faculty member in the pathology department. He succeeded Robert Wilson as Dean of the college in 1943 and served until 1949, when he was named president of the college, a position he held until 1960. During Lynch's tenure the Medical College underwent a period of rapid expansion with the most important being the construction of the 1955 Medical College Hospital. Since 1856, Roper Hospital had served as the primary teaching hospital for the college. Lynch realized that in order to advance, the school had to have a teaching hospital under its own authority and as early as 1944 began planning for the new hospital. In 1955 the Medical College Hospital was opened, having been built with funds allocated from the federal government.
Medical College Building, 1914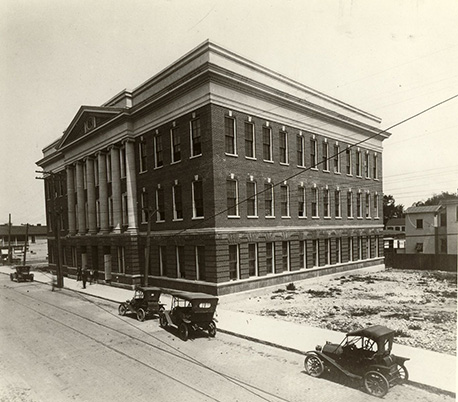 Waring Historical Library, MUSC, Charleston