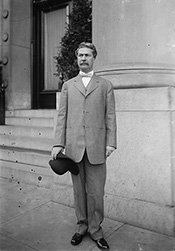 So how did Wilson persuade these forces to embrace state ownership? 
Dean Wilson used his 1909 and 1910 commencement addresses to point out that many medical schools were receiving public support and were of great importance to the public welfare. He cited the University of Cincinnati in Ohio in support of his argument.  After two years of campaigning Wilson won the faculty's support and the trustees voted to offer the college as a gift to the state.
After obtaining the support of the faculty and board of trustees, Dean Wilson approached South Carolina Governor Coleman Blease for his support.  As Wilson described in his manuscript, "Personal Recollections of the Reorganization of the Medical College":
"The situation was explained, the service of the college to the state through many years was expatiated upon and the inevitability of its loss should the legislature deny our request was pointed out. "And, Governor," I said, "It would be a most progressive step to take. It is in line with the policy other states are pursuing and it is bound to be done at some time." Whether it was my manner or the intimated suggestion that I regarded him as a progressive man, I do not know, but at this juncture he jumped out of his seat, brought his fist down upon the table, and said "Yes! And I want my administration to get the credit for it."
Blease proved to be an invaluable ally. In his January 14, 1913 message to the South Carolina General Assembly Blease recommended passage of the bill transferring ownership of the Medical College to the state.
Despite Governor Blease's support, this transfer was not a 'done deal.'  An extensive period of lobbying for its passage commenced. Medical College leadership and faculty held daily meetings with South Carolina senators and representatives. It was during this lobbying period that Nathan P. Colwell, MD, secretary of the Council on Medical Education of the American Medical Association, arrived in Charleston. Knowing nothing of the legislative battle regarding the college, Colwell went to Columbia at Dean Wilson's request to speak to the Senate Finance Committee on the importance of state support for medical education. While in Columbia Colwell learned of the controversy of where to base the Medical College (Charleston or Columbia). Reluctant to become involved in the conflict between Charleston supporters and Columbia supporters, Colwell agreed to speak to the Senate Finance Committee in general terms about "the desirability of state support for medical education, without regard to its location and without reference to the local situation" (Worthington, 1991, p. 982).
After appearing before the Senate Finance Committee, Colwell, with assistance from Wilson, wrote an interview for the Charleston News and Courier. He "took up several important general issues regarding medical education and addressed them in the context of the problems of the Charleston medical school" (Worthington, 1991, pg. 983).  Colwell pointed out the Medical College's early success in producing high-quality physicians while noting that it had not been able to keep up with modern technology and the lack of consistent financial support to supply new equipment and more (full-time) faculty. He cited examples of states' taking over existing medical schools with intact faculties, organizations, and traditions, as well as physical facilities that could be used as a basis for expanded, more modern, and better supported medical schools. In addition he argued that a medical school need not be immediately adjacent to its parent university and listed many precedents. Colwell further pointed out that a full-time faculty that kept abreast of the rapid developments in their subjects was critical to a medical school's success. 
 Colwell applied all this to the Medical College of the State of South Carolina which he observed was essentially developed and had facilities that would be expensive to duplicate elsewhere in the state. He noted that it had, in its long running association with Roper Hospital, access to a large patient population. Further, its laboratories were not completely obsolete and could be updated with a little state support. All in all, Colwell "considered the state's taking over the school to be 'a step in the right direction' in the development of medical education in South Carolina" (Worthington, 1991, pg. 983).
Coleman Livingston Blease, Governor of South Carolina, 1911-1915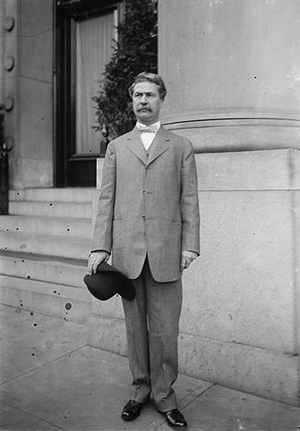 Library of Congress, Prints & Photographs Division, photograph by Harris & Ewing, [reproduction number LC-DIG-hec-01758]