Program Foundations
The Medical University of South Carolina was founded as the Medical College of South Carolina in 1824. The university now has six colleges, including the College of Graduate Studies.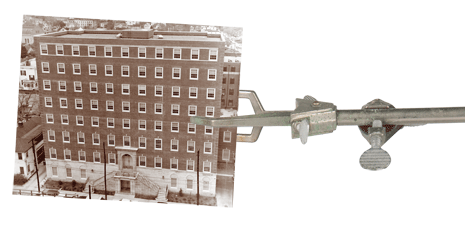 The College of Graduate Studies began as a committee of the College (then School) of Medicine in 1949 with programs in anatomy, chemistry, pathology, pharmacology, and physiology. A program in microbiology was added and the first students were admitted in 1950.
The School of Graduate Studies was formally organized as the fourth branch of the Medical College in 1965. The creation of the graduate studies program played a pivotal role in the Medical College of South Carolina's eventual move to university status and its development into a strong biomedical research institution.
The foundation of the Graduate Studies program can be traced back to 1908 when Abraham Flexner, charged by the American Medical Association and the Carnegie Foundation with appraising medical education in North America, visited Charleston.
In his evaluation, Medical Education in the United States and Canada; Report to the Carnegie Foundation for the Advancement of Teaching (1910), the Medical College of the State of South Carolina came in for sharp criticism in the areas of finance, facilities, and faculty.
Flexner's report set into motion a series of events which would catalyze the growth of the Medical College in the twentieth century. Dr. Robert Wilson, dean of the College, negotiated with South Carolina Governor Coleman Blease to transfer ownership of the Medical College to the state of South Carolina, thus securing annual appropriations for the school. Dr. Wilson also began the process of developing a full-time teaching faculty.
Dr. Wilson and his successor, Dr. Kenneth M. Lynch, recruited four major figures in basic science departments: Robert Walton (pharmacology), William McCord (chemistry), T.G. Bernthal (physiology), and Melvin Knisely (anatomy).
With their arrival, the Medical College moved forward in the areas of research and clinical science. In 1948 these men along with Dr. Frederick W. Kinard constituted first a temporary and later a formal committee on Graduate Study in the Medical Sciences.