Building a Program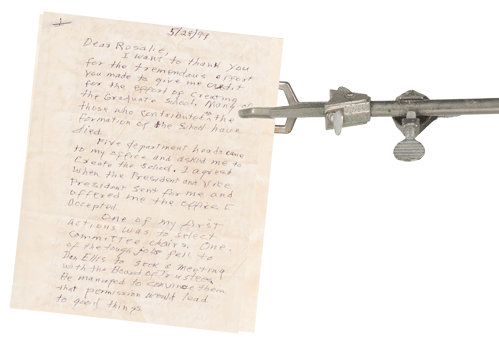 In a 1948 letter to Dr. Kenneth Lynch, dean of the College of Medicine and later president of the university, the committee outlined several arguments for starting such a program. They cited the need to train more teachers to instruct beginning level medical, pharmacy, and nursing students. They were also deeply concerned about a perceived "brain drain" of South Carolinians who were leaving the state to pursue graduate education which at the time was not available in state. The committee members felt that with the addition of graduate study, the Medical College would be better able to educate its students, recruit research-oriented students, faculty, and projects, and distinguish itself among other programs without such a course of study.
In 1999, at the age of 92, Dr. Kinard wrote a letter to then Dean Rosalie Crouch in which he reminisced about the early years of the College of Graduate Studies. The letter, (shown above) provides an intimate snapshot of the people and politics involved in the development of the college.
"To meet a definite need in South Carolina a program of graduate studies in the basic medical sciences, leading to the M.S. or Ph.D. degree, was organized on March 31, 1949. In addition to those students who have chosen careers in medicine, dentistry, pharmacy or nursing, there are students who desire training in various branches of medical science to equip themselves for teaching and research in these fields."- Graduate Study in the Basic Medical Sciences Announcements, 1964-65.
In the years since the College of Graduate Studies began, it has successfully trained hundreds of student scientists. Through partnerships with other MUSC colleges, it has expanded its training programs and training grants.