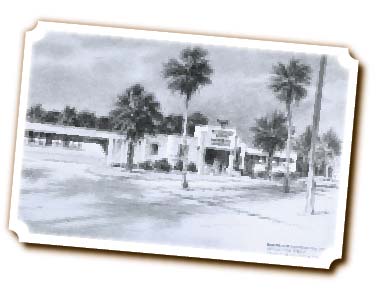 McClennan-Banks Memorial Hospital
(Courtenay Street)
Under the leadership of Dr. Thomas Carr McFall, the last Medical Director, the hospital sought funds to renovate or replace the badly deteriorated building on Cannon Street. In addition to soliciting the city's black community for financial support, McFall appealed to the Charleston County Council for $88,000 for the construction of a new hospital.
The appeal met with competing efforts, including one from Roper Hospital to enlarge the Negro wing at its hospital. The Roper Hospital proposal also included allowing black physicians to practice in the wing and offering nurses training. In 1956, County Council approved the $88,000 allocation for the new hospital which would be named the McClennan-Banks Memorial Hospital in honor of the founder, Dr. Alonzo C. McClennan and the first head nurse, Anna DeCosta Banks.
The 31-bed McClennan-Banks Memorial Hospital continued the mission and policies of its predecessors until December 31, 1976, when integrated hospital facilities afforded African Americans with previously unavailable options for health care.
In 2004 the small brick building at 25 Courtenay Drive, in the medical district of downtown Charleston was demolished. MUSC's Ashley River Tower, now stands on the site.