Porter Academy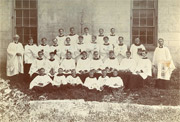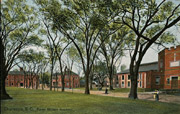 The Board of Trustees changed the name of the institution from the Holy Communion Church Institute to the Porter Academy on January 28th, 1886.
"The trustees of the Holy Communion Church Institute, of Charleston, think that the time has arrived for the change of its corporate name to that of the Porter Academy. They deem this a just tribute to a great Christian philanthropist, who from its origin, and amid all its trials and struggles, has borne the burden and heat of the day. His name should in the coming years be indissolubly connected with it, for he has devoted to it the best years of a long and honorable life; in its darkest days his faith never waivered, his heroic courage never failed."
By 1893, the school was known as the Porter Military Academy.