The Federal Arsenal & the Civil War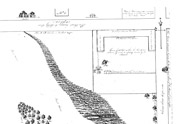 St. Luke's Chapel sits on the site of a potter's field purchased by the City of Charleston in 1807. The potter's field was a city-owned burial ground for strangers, paupers, or criminals. In 1825 the United States government acquired the property on which to build an arsenal. Built between 1825 and 1830, the arsenal consisted of a foundry for the manufacturing of small arms and field pieces, a gun-carriage house for the storage of field artillery, and a stable. Federal troops occupied the arsenal until the outbreak of the Civil War.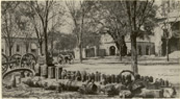 On November 7, 1860, Charleston militia seized the arsenal making it one of the first Federal properties taken by the Confederacy during the Civil War. Confederate forces used the arsenal for weapons and munitions storage, as well as manufacturing throughout the war. With the fall of Charleston in 1864, Federal troops reoccupied the property until 1879, after which the arsenal never saw military use again.
"This arsenal was taken by force of arms by the militia of South Carolina, by order of Governor Pickens. The commanding officer was allowed to salute his flag before lowering it with one gun for each State now in the Union (thirty-two), and to take it with him, and the detachment to occupy the quarters until instruction from Washington can be obtained."
Report of Frederick C. Humphreys, Military Storekeeper Ordnance, Commanding.
For further information about the impact of the Civil War on MUSC visit our Civil War exhibit.