Life After Hugo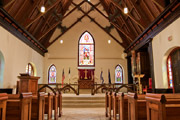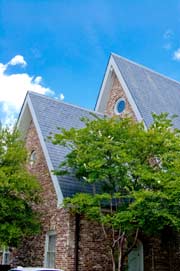 In many ways the hurricane was a blessing in disguise. Before Hurricane Hugo the chapel had no air-conditioning or adequate heating, the pews were uncomfortable, and the entire building was in need of major repairs and updating. St. Luke's is now much more user-friendly and has become a center for numerous campus activities and musical events.
Donations from the reconstruction created an endowment for the upkeep of the chapel. The chapel rents the facility for weddings, funerals, and some other community functions for a small fee. The Porter Military Academy Alumni Association holds a memorial service annually in the spring.
Four years, four months, and twenty eight days and over $1,000,000 later a meticulously restored chapel was rededicated on February 10, 1994. The architects produced a building which retained its familiarity and ambience while producing a structure with the beauty and functionality required of a new chapel. St. Luke's Chapel has entered into a new phase of its existence. As the University has grown so has the increasing need for a venue such as the chapel offers.
"This, our chapel, was destroyed and was lost to us. Now it has been raised from the rubble and is found again in our midst. Thanks be to God!" Richard J. Sosnowski, M.D., MUSC Vice Dean Emeritus and Emeritus Professor, OB/GYN, 1994.