Hurricane Hugo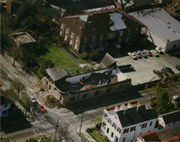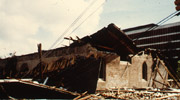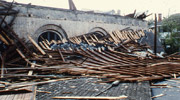 On September 21, 1989, St. Luke's Chapel was severely damaged by Hurricane Hugo; the roof collapsed, the organ was ruined beyond repair and the stained glass windows crashed into the streets. The day after the hurricane passed, Dr. James B. Edwards, then president of MUSC, decided to save the chapel, rather than clear the site. Dr. Edwards appointed Dr. W. Curtis Worthington, Jr., Director of the Waring Historical Library, to head a committee charged with overseeing the restoration of the chapel.
"The chapel looked like it [had] been in an air raid. The roof had caved in, the south side of the roof fell into the main body, the church nave, and the other side, the northern side, had fallen into Bee Street, and the Toomer Porter window had fallen more or less into Ashley Avenue."
W. Curtis Worthington, Jr., M.D., Waring Historical Library.
For further information about Hurricane Hugo's impact on MUSC